untung99.biz: The week in TV Tom Jones Queen Charlotte A Bridgerton Story A Small Light Black Ops
Untung99 menawarkan beragam permainan yang menarik, termasuk slot online, poker, roulette, blackjack, dan taruhan olahraga langsung. Dengan koleksi permainan yang lengkap dan terus diperbarui, pemain memiliki banyak pilihan untuk menjaga kegembiraan mereka. Selain itu, Untung99 juga menyediakan bonus dan promosi menarik yang meningkatkan peluang kemenangan dan memberikan nilai tambah kepada pemain.
Berikut adalah artikel atau berita tentang Harian untung99.biz dengan judul untung99.biz: The week in TV Tom Jones Queen Charlotte A Bridgerton Story A Small Light Black Ops yang telah tayang di untung99.biz terimakasih telah menyimak. Bila ada masukan atau komplain mengenai artikel berikut silahkan hubungi email kami di koresponden@untung99.biz, Terimakasih.
Tom Jones (ITVX) | itv.com
Queen Charlotte: A Bridgerton Story (Netflix)
A Small Light (Disney+)
Black Ops BBC One | iPlayer
In the week of the coronation of Charles III, it feels fitting to encounter not one but two bustles-and-britches period dramas. The first, Tom Jones (ITVX), is an adaptation of Henry Fielding's 1749 anti-elitist satire on class and hypocrisy, The History of Tom Jones, a Foundling (made into the 1963 film starring Albert Finney, and a 1997 BBC series). Adapted by Gwyneth Hughes (Vanity Fair) and directed by Georgia Parris, this Tom Jones is a lean four episodes (the 2005 Penguin Classic edition is 1,024 pages long). It stars Solly McLeod as the eponymous comic romantic hero, who was abandoned as a baby ("a gift from God!") and raised by kindly Squire Allworthy (James Fleet).
Lusty, good-hearted Tom's foes – notably Allworthy's malignant snooty nephew (James Wilbraham) – delight in reminding him of his "beggarly bastard" status. Tom's illegitimacy also threatens his chances with heiress Sophia (Sophie Wilde). In the spirit of diverse casting, she is transformed into the Jamaican-born granddaughter of the vulgar Squire Western (Alun Armstrong gurning in full toby jug mode), and also serves as narrator.
Going by the two episodes available for preview, for once a period text hasn't been "darkly reimagined" for the gory modern palate. If anything, the 18th century looks somewhat oversanitised, as if dipped in Dettol. A poacher's cottage resembles an Airbnb top pick; our hero cavorts about like he's in some Georgian-era One Direction video. While ITV's Tom Jones seems to aim for the spry comic cadence of something like The Great, it doesn't quite get there. That said, it has charm. There's a Moll Flanders-style earthiness to Tom's dalliances ("Try to keep it in your britches!"), and the cast (including Shirley Henderson and Pearl Mackie) is strong and game. Watch out for Ted Lasso's Hannah Waddingham swishing in as the predatory, cobra-eyed Lady Bellaston.
Over on Netflix there's the six-part spin-off/prequel Queen Charlotte: A Bridgerton Story. Although not a "real" Bridgerton series (inspired by the Julia Quinn novels), it's the first since last year's second series of Bridgerton: an underwhelming, froth-free Regency cappuccino that was also weirdly (off-brand) unsexy. It seemed like an eternity before there was so much as a perfunctory rummage in the crinolines.
Here, the prequel element focuses on 17-year-old German Princess Charlotte (an excellent, rebel-hearted India Amarteifio) marrying young George III (Corey Mylchreest, initially presenting as yet another soggy Bridgerton male whom you could imagine playing Prince Charming in provincial panto). In the normal Bridgerton time zone, some familiar cast members mill around, while Golda Rosheuvel's Queen Charlotte (once more festooned with hairpieces that resemble half-melted My Little Ponies) bemoans her progeny not producing heirs.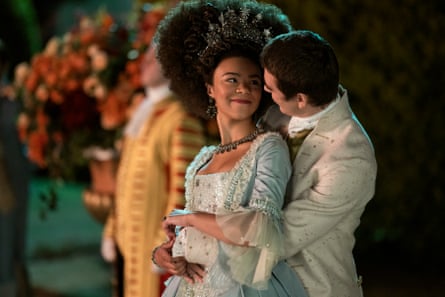 With creator Shonda Rhimes again at the helm, regal eye candy (palaces; gold carriages) is juxtaposed with scheming, backstabbing and high-born female despair. Weightier storylines include (spoiler alert) the (increasingly moving) mental degeneration of King George. Unexpectedly for a famously "colourblind" show, there's a laser focus on race, outlining how the "ton" (the toff community) became racially mixed. There's also lots of sex. Raunchy sex. Angry sex. Oral sex. Gay sex. Crockery-imperilling dining table sex. Even bad sex: a young Lady Danbury (Arsema Thomas) is depicted being drearily humped against the marital headboard, thinking of England (or maybe Netflix).
It's an improvement on the second series: Bridgerton reaching out a bejewelled, entitled hand to grasp its mojo back. Still, what next? It surely can't keep rehashing the trusty aristo-romcom formula, however extravagant the corsetry. Signature flourishes (classical versions of, say, Beyoncé's Halo) are starting to feel – whisper it – a mite stale. You have to wonder how long the juggernaut can keep roaring on.
Disney+ offers a different kind of period piece with A Small Light, created by Tony Phelan and Joan Rater. It tells the true story of Miep Gies, Otto Frank's secretary, who helped hide him, his teenage diarist daughter Anne, the rest of the Frank family and others in an attic annexe in Nazi-occupied Amsterdam (detailed in Gies's 1987 book, Anne Frank Remembered), until they were betrayed and sent to the camps. The title relates to Gies's quote about putting on a small light in a dark room.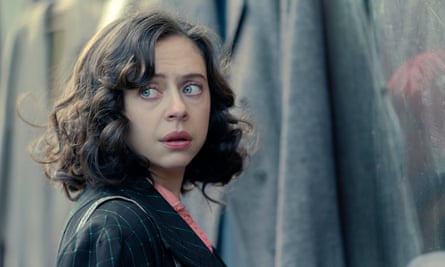 This is wonderfully done: at once a depiction of unfolding catastrophe and a tribute to human courage. Bel Powley delivers a fully alive Gies: one minute her blue, marble-like eyes shine with defiance and humour; the next they are imbued with melancholy. Joe Cole plays Gies's intellectual, seemingly passive husband, Jan (shown also resisting the Nazis). Liev Schreiber is a pensive Otto, while his daughters Anne (Billie Boullet) and Margot (Ashley Brooke) flit about, touchingly unable to suppress the joy, drama and wistfulness of teenage life.
Outside scenes of Nazi-occupation occasionally feel too muted, and the annexe-atmosphere seems markedly less fractious than in Anne's diaries. However, a composed cast that includes Noah Taylor and Amira Casar keeps things grimly credible, until the almost unbearable, sensitively handled end. At eight episodes, A Small Light is far too long, but via Gies's story it succeeds as an evocative retelling of an oft-documented tragedy.
New six-part BBC One comedy-thriller Black Ops is the creation of Famalam's Gbemisola Ikumelo and Akemnji Ndifornyen. Fast-talking Dom (Ikumelo) and religious-minded Kay (Hammed Animashaun from Black Mirror) are useless police community support officers redeployed by detective Clinton (Ariyon Bakare) to infiltrate a drug gang, of which psychotic Tevin (Ndifornyen) is a member.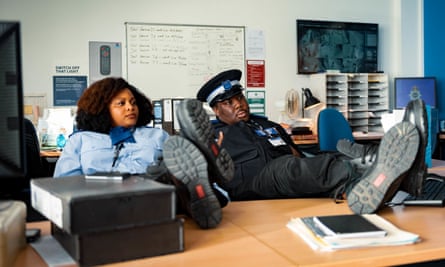 A couple of episodes in, I'm finding the show a little scrappy, if clever and funny. It (spoofingly) nods to Top Boy/ The Wire, and to how black people are portrayed on screen, police racism and black life in general (Dom labels Clinton a "budget Idris"). It has precisely zilch interest in being gritty/realistic ("Have a good drug-dealing day!"), and there are touches of the surreal sweetness of Wellington Paranormal.
The quality of Black Ops is underlined by how packed it is with great performers, including Joanna Scanlan, Rufus Jones and Felicity Montagu. As the ludicrous story progresses ("This is Line of Duty shit!"), I find myself chuckling more and more.
Star ratings (out of five)
Tom Jones ★★★
Queen Charlotte: A Bridgerton Story ★★★
A Small Light ★★★★
Black Ops ★★★★
What else I'm watching
The Windsors Coronation Special
(Channel 4)
Though the coronation aired too late for this column's deadline, there was plenty of subversive humour in The Windsors, starring Harry Enfield as Charles. Among other musings there's a cost-effective idea to relocate the entire event to Slough.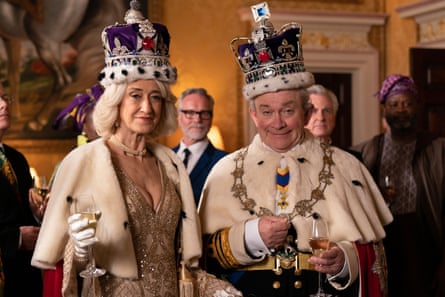 Blue Lights
(BBC One)
The concluding episode of this brutal, inventive crime drama about police recruits in Belfast, which crept out of the scheduling shadows to become a full-on sleeper hit. If you haven't already done so, check it out.
Fatal Attraction
(Paramount+)
It's difficult to forget Glenn Close's jilted lover in the 1987 film, but now there's this series remake with Lizzy Caplan and Joshua Jackson. Going by the stilted opener, it might be one to swerve.